Bayou City Lodge # 228 was chartered on July 20, 1919.
"Bayou City" is one of several nicknames for Houston, attributed to the 10 waterways that flow throughout the city. 
Prince Hall Affiliated Freemasonry in Houston has a rich history, from the Cuney Homes, named after our First Grandmaster, Norris Wright Cuney, all the way up to United States Congressman Al Green.
Feel free to contact us with any questions
or
P.O. Box 300890
Houston, TX 77230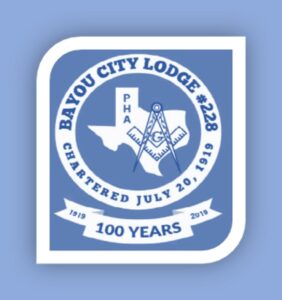 The opinions and pages of this site do not necessarily reflect the opinions, views, or policies of The Most Worshipful Prince Hall Grand Lodge of Texas, Free and Accepted Masons, and it's Jurisdiction, Incorporated, it's Officers, Constituents Lodges, and Members.